Bordeaux is the world's most famous wine region and the second most visited city in France, after Paris. Bordeaux wine region has a total vineyard area of over 120,000 hectares, making it the second largest wine growing area in France, after the gigantic 240,000 hectares of Languedoc-Roussillon. Average vintages produce over 700 million bottles of Bordeaux wine, ranging from large quantities of everyday table wine, to some of the most expensive and prestigious wines in the world.
89% of wine produced in Bordeaux is red, with sweet white wines, dry whites, and in much smaller quantities, rosé and sparkling wines collectively making up the remainder. Bordeaux wine is made by more than 8,500 producers or "Chateaux". There are 54 appellations of Bordeaux wine.
The climate is oceanic with mild temperatures (14.5 C annual average) and a lot of precipitations (950 mm per year). The soil is composed of a mixture of alluvial terraces of gravel deposits, good for Cabernet, and clay, better for Merlot.
To put it simply, we can follow the natural borders drawn by the rivers and divide Bordeaux wine region into 3 parts:
1) The left bank
On the left bank of the Garonne River, you have the districts of Medoc and Graves.
- Medoc is about 60 km north to south, and about 10 km wide, with around 10,600 hectares under vines and a production of about 50 million litres per year. All the wine made here is red, mostly Cabernet-Sauvignon planted in gravelly soil. The most famous communal appellations in Medoc are Saint-Estephe, Pauillac, Saint-Julien, and Margaux.
- Graves produces both red and white, dry and sweet, in Pessac-Leognan, Barsac and Sauternes.
The left bank is famous for its 1855 classification, dominated by 5 First Growths: Château Lafite-Rothschild, Château Latour, Château Mouton-Rothschild, Château Margaux and Château Haut-Brion.
2) The right bank
On the Right bank of the Dordogne river, you have the districts of Pomerol and Saint Emilion, mostly planted with Merlot and cabernet Franc, on a mixture of sand, gravel and clay. Right bank Bordeaux are distinguishable by their fineness, suppleness and fruity character as well as a propensity to age faster than the left bank.
- Saint-Emilion is about 5,400 hectares or 6% of Bordeaux total vineyard area. It is mostly planted with 80% Merlot, Cabernet Franc and a bit of Cabernet Sauvignon. Since 1955, Saint-Emilion has its own classification which is updated every 10 years or so, and consists of the following levels: Premier grand cru classé A, Premier grand cru classé B, and Grand cru classé. As of the new classification in 2012, there are currently 4 estates at the highest level: Château Angélus, Château Ausone, Château Cheval Blanc and Château Pavie.
- Pomerol is the smallest of the major fine wine regions in Bordeaux, covering an area that is roughly 3 kilometres wide by 4 kilometres long, one-seventh of the size of Saint-Émilion AOC. There are about 150 producers in Pomerol harvesting 800 hectares of grape vines and producing a year average of 4.5 million bottles of wine. Although they typically fetch very high prices, there is no official classification in Pomerol. Top estates include Château Pétrus, Château l'Evangile, Château Lafleur, Château Le Pin.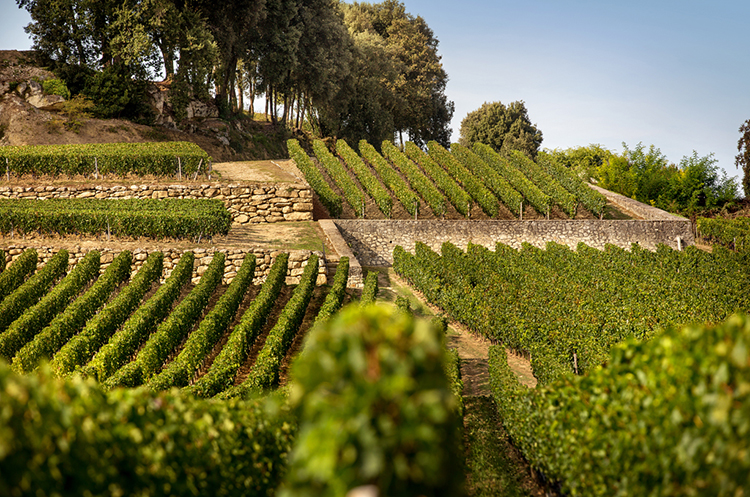 3) The Entre-deux-mers
Between the Garonne and the Dordogne, lies the « Entre-Deux-Mers ». It is the largest sub-region of Bordeaux, although, as there are large areas of forest, relatively little of it is used for growing grapes. The total area under vine is about 1,500 hectares, with about 250 growers making wine there. Traditionally dry and fruity white wine but increasingly, red wine, both fruity, medium bodied and easy to drink. Very good value for money.


Classic Bordeaux Red grape varieties:

- Merlot is the most widely-planted grape variety in Bordeaux. It expresses its full potential on cool soils, producing smooth wines with a great deal of colour, roasted aromas, and flavours reminiscent of red fruit (such as plums) and figs after ageing in bottle for several years. 


- Cabernet Sauvignon is a traditional late-ripening local variety. The gravely soil of the Left Bank provides the necessary warmth for optimum ripening. This grape variety contributes structure to the wines as well as hearty tannins and a complex flavour profile, elegant, oaked, with notes of blackberry, currant, liquorice, and sometimes spices and mint.


- Cabernet Franc ripens earlier than Cabernet Sauvignon. It is an excellent complementary grape variety that rarely makes up the majority of the final blend (excepting for Cheval Blanc). It adds freshness, finesse, and aromatic complexity as well as hints of raspberry and violet.


Classic Bordeaux White grape varieties include:

- Sauvignon Blanc, except in rare instances, is the most important variety for dry white wines. It provides the wines with the necessary acidity as well as minerality, aromatic freshness, and varietal aromas, such as citrus, gooseberry, and passion fruits.

- Sémillon is the main grape variety for semi-sweet and sweet white wines and is almost always a component of dry white wines as well. It contributes roundness, richness, and apricot and honey aromas. When affected by «noble rot», it develops an inimitable bouquet found in Sauternes.

- Muscadelle, which plays a secondary role in the blend for both dry and sweet white wines (generally no more than 10%), is a fragile but very interesting variety with musky floral overtones.
Now you know a good deal about Bordeaux wine region, its size and production volume, the difference between right bank, left bank and entre-deux-mers, the most famous appellations and main grapes varieties. Why not continue reading about other France wine regions?
Head over here: https://eiffelmarkets.com/content/category/6-the-french-wine-regions
Or perhaps you'd like to try some Bordeaux wine? We have picked a couple of estates which are very good value for money!
Please order here: https://eiffelmarkets.com/19-bordeaux-south-west-of-france
Thank you very much, cheers!
G.